Description
DenMat Lab was the first dental laboratory to design and fabricate thin veneers. Backed by over 30 years of experience, world-class education, and the latest digital lab technology, Lumineers produce naturally beautiful smiles with the greatest preservation of tooth structure possible.
Send us a case to find out why Lumineers is the #1 patient-requested veneer. Now available in:
Dentistry by
Dr. Peter Harnois
Hinsdale, IL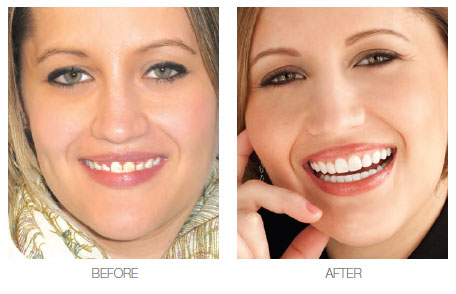 Multiple materials
Cerinate II® – Lucite reinforced porcelain
IPS e.max® – lithium disilicate

Multiple Preparation Techniques
No prep
Enamel contouring
Traditional

Multiple Fabrication Techniques
Pressed
Cut-back
Stacked
| Brighten Stained & Discolored Teeth | Reshape Small or Misshapen Teeth | Eliminate Spacing and Gaps |
| --- | --- | --- |
| | | |
| Align Crooked Teeth | Restore Chipped Teeth | Renew Old Dental Work |
| | | |

A.R.T Additive-Reductive Template
Minimally-invasive dentistry is usually more challenging than traditional preparation. A.R.T. (Additive-Reductive Template) is DenMat's new, innovative process designed to make even complex cases simple.Following the A.R.T. process will:
Provide three options to address varying case types: No Reduction (additive only), Strategic (additive and reductive), and Idealized (additive and reductive)
Ensure optimal, easy to follow, conservative case planning for each individual case
Give the dentist and patient the chance to approve the new smile in a close-to-final form prior to fabrication
Deliver an accurate replica to the lab with a pre-approved "blue print" for the case, minimizing remakes and saving your valuable time
Deliver predictable, beautiful esthetics, and assist you in becoming a "Minimally-Invasive Smile Design Expert"

No Reduction – Additive Only
Strategic – Additive and Reductive
Idealized – Additive and Reductive
Lumineers® Placement Kit
Ready to place a Lumineers case but not sure you have what you need? Now everything you need is in one convenient package. This system takes you through try-in, placement and finishing.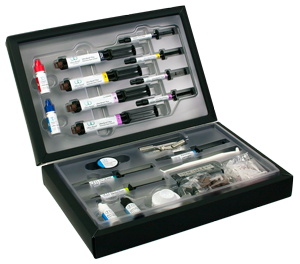 Kit Contents
| | |
| --- | --- |
| Tenure® Adhesive A & B 6mL | Schure 349 |
| Ultra-Bond® Plus Cement Shade Supreme White 6g | Dappen Dish 4pc |
| Ultra-Bond Plus Cement Shade B0 6g | Brush Tip Handle |
| Ultra-Bond Plus Cement Shade B1 6g | Brush Tip Handle |
| Ultra-Bond Plus Cement Shade A1 6g | CeriSaw™ Anterior Handle 2pc |
| Ultra-Bond Plus Try-In Shade Supreme White 1g | CeriSaw Anterior Blades 10pc |
| Ultra-Bond Plus Try-In Shade B0 1g | CeriSander™ Strips Ultra-Fine 6pc |
| Ultra-Bond Plus Try-In Shade B1 1g | CeriSander Strips Fine 6pc |
| Ultra-Bond Plus Try-In Shade A1 1g | Lumineers Finishing Diamond & Bur Block |
| Tenure® S Dab-Eze® 3g | Mixing Pad |
| Paint-On Dental Dam 3mL | Black Syringe Tips 20g/20pc |
| Etch 'N' Seal® 3 mL | Pink Syringe Tips 18g/ 20pc |
| Porcelain Laminate Polishing Paste 5g | Brush Tips 25 pc |
| Cerinate Prime™ 5mL | Brown/Clear Mixer Tips 10pc |
| Porcelain Conditioner 6g | Lumineers Placement Guide |
| Lumineers Technique DVD | Buy 6, Get 2 Lumineers Free Coupon |
NORMALIZED TRANSLUCENCY OF CERINATE PORCELAIN
To look like natural teeth, porcelain restorations must be highly translucent. Lumineers are clearly the #1 choice for achieving a brilliant, white smile while replicating the natural characteristics of enamel.
LEUCITE-REINFORCED GLASS-CERAMICS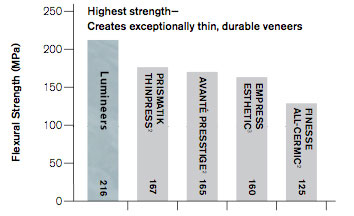 Lumineers are fabricated in cerinate feldspathic pressable porcelain.
Lumineers low viscosity glass allows for the pressing of restorations as thin as 0.3mm with exceptional strength.
At 216 MPa, Lumineers are made with the strongest leucite-reinforced ceramic on the market.
Lumineers shows low wear rates against opposing dentition when compared to conventional veneers.
Available in all Vita shades.

Lumineers are supported by over 20 years of clinical research (click here for more information)
1. Chen X, Cattell MJ. Biaxial Flexural Strength Report. Unpublished report: 12 Feb 2009.
2. Dental lab products, April 2009: forward trends: veneers: veneer venue. Dental Products Report [Internet]. April 2009 [cited 14 Sep 2009].
Available from http://www.dentalproducts report.com/articles/show/dlp0409_ft_veneer-venue
3. Bühler-Zemp P (Ivoclar Vivadent AG, Research and Development, Scientific Services, Bendererstrasse 2, FL – 9494 Schaan, Leichtenstein).
IPS Empress Esthetic: Scientific Documentation. Mar 2004.
The following instructions are relevant to Lumineers and are available for download in PDF Format.
DMUK _ART_Lumineers_Guide_Rx_form_reader_1016