Description
Overview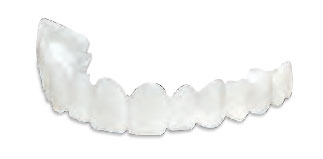 Many dentists regard temporization as one of the most difficult aspects of full-mouth restoration. Snap-On Smile is not only an excellent provisional, it also provides patients exceptional esthetics. It can last for years, yet is affordable enough to be temporary. For patients who are hesitant to commit to more involved restoration treatments, Snap-On Smile gives them the experience of living with better function and superior esthetics.

Full or partial arch
Cosmetic enhancement
Implant provisional
Removable partial denture
Non-invasive
97% Excellent or Good by Clinicians Report*
81% of 31 CR Evaluators stated they would incorporate Snap-On Smile into their practice.
Snap-On Smile was primarily used by CR Evaluators for:
Provisional restoration
Short-term esthetic improvement
Long-term esthetic improvement
Diagnostic set-up

Applications
Snap-On Smile is a non-invasive cosmetic, removable full or partial arch that literally snaps over the patient's existing dentition…without impinging on the gingival tissue or covering the palate. It's completely tooth-borne, so no adhesives are required. Patients can eat, drink, and function normally all day, every day! Some of our most popular applications include: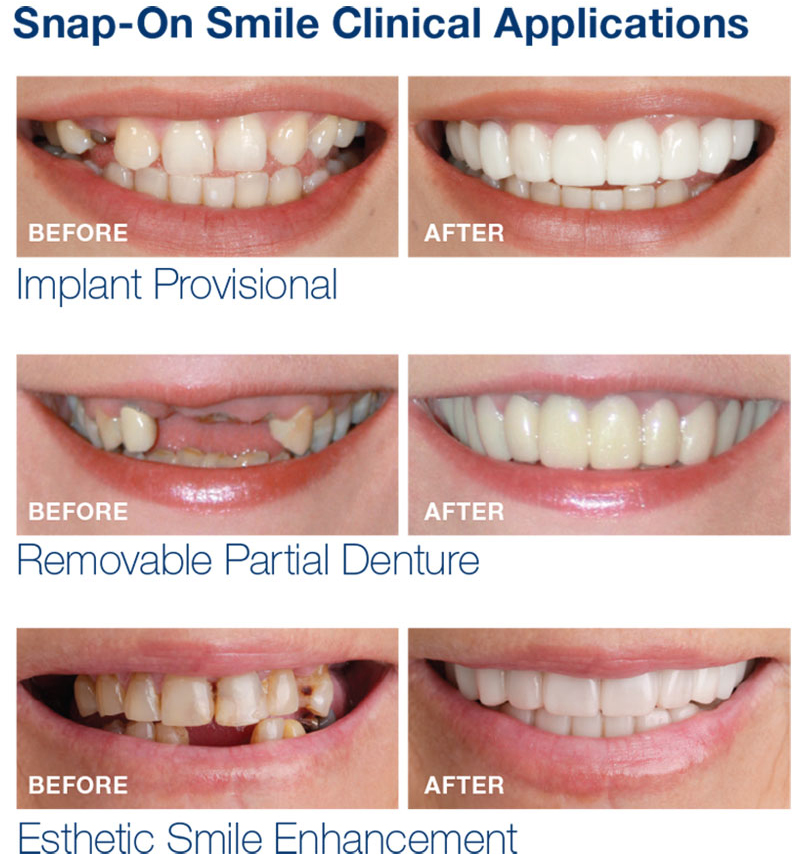 Get Started
For new customers ask about our
Snap-On Smile Starter Kit
to get started!
Two Discount Coupons for your Snap-On Smile Cases –(35% Discount on 1

st

case and 20% Discount on 2

nd

case)

Demonstration Appliance, Model and Display

Snap-On Smile Shade Guide

Appliance Adjustment and Finishing Block

Patient Brochures
To purchase: Contact +44 0844 775 0779 to order
Articles
Clinical and practice building articles regarding Snap-On Smile and Snap-it! (PDF format)
Opening Your Mind and Embracing the Options" by Dr. Mark Hyman, Dental Economics July 2012
"Snap-On Smile and my father" by Dr. Peter Harnois, Dental Economics August 2011
"The Immediate Smile Makeover" by Jeffrey Rosenberg, DDS, Oral Health Journal July 2011
Patients for whom you thought you had no answers by DDS Tyler Green Dental Economics March 2011
Implant Temporization and the Benefits of Snap-On Smile by DDS Aria Irvani DentalTown.com March 2011
"…smile with no gap" by Health Reporter Elisa Black, Adelaidnow.com May 14, 2011
The Snap-On Smile Removable Appliance by DMD Marc Liechtung, Inside Dentistry September 2010
Snap-On Smile: Dentistry or Psychology by DDS Kaufman
Snap-On Smile: a New Smile, a Happy Patient, and Further Clinical Applications Dentistry Today August 2010
"Are flippers obsolete?" by Dr. Louis Kaufman Dental Economics August 2010
Forms/ Instructions
Please click on the files below for additional information…
DenMat Lab Snap-On Smile Rx
Clinician Quick Reference Guide (Standard vs. Advanced Cases)
Snap-On Smile Impression, Insertion & Adjustment Guide
MSDS for Snap-on Smile
MSDS for Anti-bacterial gel
MSDS for Appliance Cleanser